External finance director
DAF outsourced to optimize the management of your business

The administrative and financial director (CFO)
is the guarantor of the sound administrative and financial management of the company.
He/she checks the proper implementation of the strategy and procedures defined with the management, ensures economic profitability, transmits his analyses and coordinates the services for which he/she is responsible. He ensures that accounting and tax rules are respected.
The Administrative and Financial Director is a key post which may prove to be too costly for a VSE-SME (between EUR 50 and 100,000).
Using an external CFO allows a high level of competence to be achieved at a moderate cost. In addition, it is a way to reinforce teams on an ad hoc basis during special circumstances such as absences, departures, buy-outs, restructuring, etc.
It is also a way to gain new skills and specific experience.
With our experience and our adaptability in complex environments, it is for you the guarantee to have a solution immediately operational.

Starting or resuming a business
Analysis of the feasibility of your project
Funding and preparation of forecasts
Choice of legal status

Accounting expertise
Keeping and reviewing your accounting records
Preparation of your balance

Steering your company
Implementation of reporting, budgets/forecast accounts
Implementation of a cost accounting system
Management of your cash flow, dashboards, cost calculation

Taxation
Declaration of your tax obligations
Optimization of your tax system
Assistance during tax audits

Payroll and social management
Management of your payroll and social declarations
Consulting in social law and human resource

Legal expertise
Corporate Law
Legal advice

External finance director
Coordinate your structure's strategy and procedures
Check compliance with legal obligations

Evaluation and audit
Evaluation of your professional assets
Acquisition and disposal audit
Legal audit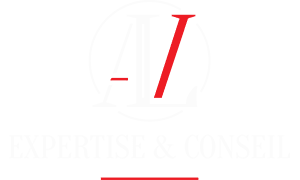 Hours
Lundi - Vendredi : 08h30 - 18h30
Hours
Lundi - Vendredi : 08h30 - 18h30